This page contains my own post-match summary (as it were) of a random selection of gigs. Apologies if your party doesn't get a mention - thats the way the fortune cookie crumbles...
Billionnaires? Living under the ground? WTF?
ChineseElvis in Feb 2014 discovered himself under Exmoor. Yes, that's right, underneath! In an elaborate set of tunnels built by a billionnaire underneath his country retreat. All because if you have a billion dollars, what else are you going to spend it on? The answer (apart from the aforementioned Italian marble lined tunnels with sculptures etc including underground bar and bowling alley) is ChineseElvis, the Dorchester (to cater), a few other acts and a couple of naked women to serve drinks to you and your 16 buddies. The women were body painted, to add a touch of class, mind you. I won't name the guy, but he is not a great tipper is all I can say.
The ENGLAND CRICKET TEAM - PAUL COLLINGWOOD's Testimonial Dinner
ChineseElvis has been a great fan of the England Cricket team, ever since he met some of them in a competition for the best tribute band in the UK. I thought they were dead ringers for Take That - but they won the Band section of the competition with a lively take on The Village People. We met at the winner's podium, thanks to my sweeping victory in the Solo Artiste section. The winners' prize was a chance to market a homoerotic men's fragrance. Below is a polaroid from that event. I have been forbidden to mention what Matthew Hoggard was doing to Andrew Strauss in the pic. It made my eyes water, is all I will say.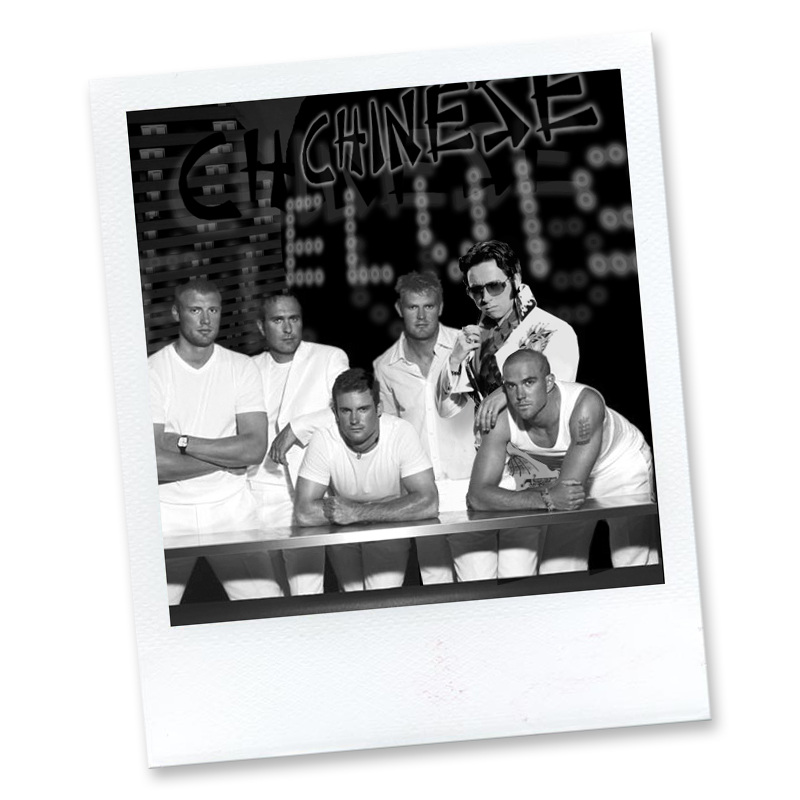 On the evening of the 6th ODI at the Oval, Paul Collingwood's testimonial dinner (attended by both England and India teams as well as many VIPs) at Annabelle's nightclub in Berkeley Square was the scene of a short performance by the King from Beijing. Monty Panesar, dumbstruck by ChineseElvis' facial hair, was unable to comment. Geoffrey Boycott, outside the club, was unsure whether the entrance was on the left or right of the passageway. It was, for Geoffrey, a corridor of uncertainty. Overall, it was a great event and when Natalie Imbruglia showed up, it was time for ChineseElvis to surreptitiously vanish into the night.
THE RITZ and JIMMY CHOO
I did a Chinese New Year gig at the Ritz Hotel, Piccadilly, with a live band. All for a small bunch of Chinese rich and famous guests of the hotel (or was that a bunch of small Chinese rich and famous guests?). David Tang and Jimmy Choo were present, among others. My question is this: Do the Chinese have a sense of humour bypass? There we were in a small room, among friends and not one of the guests was happy to be seen to be laughing. In fact one guy at Jimmy's table nearly choked himself to death, when he laughed out loud at one of my jokes, and forcibly stopped himself as he realised he was the only one to acknowldge the joke. He then proceeded to splutter his way through an entire rendition of All Shook Up, with tears streaming down his face and snot, too. If he had been drinking milk, it would undoubtedly have found its way out through his nose. Jimmy and his mates pretended to ignore him. This is the 3rd time I have met Jimmy Choo. The 1st time, we were sat together taking questions at a Chinese Arts conference in London's V & A Museum. Jimmy pledged in front of the crowd of perhaps 250 people that he would sponsor (IN THE FORM OF CASH) and received a round of applause for the sentiment. Nearly 4 years later, we are still waiting for the cheque. So Jimmy, I mentioned it again at the gig, but anytime soon, would be most appreciated. Cheers, mate. And a White Size 9 Cowboy Boot wouldn't go amiss, knowwhaddamean??
NOTHING TO DO WITH CHINESEELVIS
But this photo, taken by my mate Paul Chan, is brilliant and I wanted to share it with you. It was taken on the set of a porn film I was making in 1975 (entitled 'Jailhouse Cock') with my then wife (Ramona), when I was a struggling young ChineseElvis trying to make a living. Paul Chan was my money-shot stunt-double. I like to remember where I came from. It keeps me humble...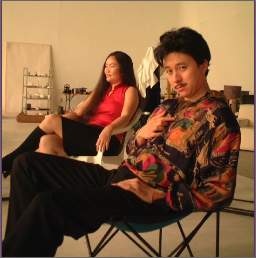 BT IN BIRMINGHAM
For the 2nd time in my career, I was asked to entertain a rowdy rabble of BT people, who were having a bonding session. The party was very good with the best sound system I have ever been provided with, which all goes to show that its worth investing in a good system if you have decided to fork out for my services. There was a very good limbo dancing guy on the bill as well, with a stomach like a well-rendered brick wall and a package like a plantain. So that made two of us...
THE LABOUR PARTY
I was asked by a politician friend to MC and entertain a bunch of Labour party members at a fund-raising dinner to co-incide with Chinese New Year. A great briefing took place in Islington, where I was informed I would have to drop my politically insensitive gags (sample: singing as ChineseElvis and being the wife of the Prime Minister have their similarities: we both have to watch out for the damage a couple of flats can do...etc.) Cherie Blair was guest of honour and Tony himself showed up briefly to wish the evening well. It was a grand occasion, with a 10 course meal and speeches and much hilarity. A collection of important (and some unheard of) Labour Party people were present and after the meal, I auctioned off a few "prizes"! This was a great success with a "mug of the year" accolade going to some chap who bought a signed photo of Tony Blair for an extortionate sum. I received a nice letter from the Labour Party thanking me for my services, which is all very well, but the question remains: "Who's paying for my parking"?
HOLIDAY IN GERMANY
Vacation time. After finding some cheap flights I was able to head out to Germany. On holiday in Germany along the Rhine this summer, rather like Elvis during his time in the US Army, I stayed a night at the following hotel, which made me feel right at home.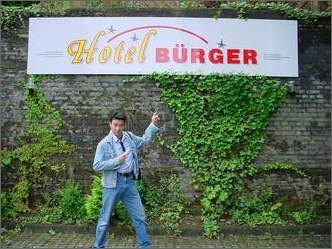 CAFE DE PARIS
I was recently summoned at short notice to sing (for the 2nd time) at the Cafe De Paris in Leicester Square, London. Celebrities who would be also singing included Boy George, Barry McGuigan, Paul O'Grady, Darren Day, Frank Skinner, a bunch of actors (mainly from soaps that I dont watch, apparently) and Dylan Moran, who played guitar and backed himself on One Night. There was also another Elvis impersonator (from Ireland). In the event it turned out to be a fine night and everyone except Frank Skinner turned up, making it the hottest ticket in town. It was packed and ChineseElvis had an all areas backstage pass, which was good because they gave us free beer, champagne and cigarettes. This was the 2nd time I had been involved in a publicity stunt to launch an Elvis album (see below) and it was a fun event. This time, however, I did not receive a free copy of the album!
CHINESE NEW YEAR GIG
In February, to celebrate the Year of the Ram and the fact that Casinos had been granted their Public Entertainment Licences after many years, London Clubs took the obvious step of hiring ChineseElvis to croon into the small hours to bolster the spirits of those customers who had lost it all on black... ChineseElvis performed at a Casino in Southend and one in Piccadilly and sprinkled the venues with a touch of Las Vegas Elvis magic! Very pleasant gigs, these, with the management looking after the talent extremely well indeed.
TUNBRIDGE WELLS & GRACELANDS PALACE RESTAURANT
The proprietor of the above restaurants, Paul "Elvis" Chan has now booked me to be his regular performer for Friday and Saturday evenings at the Old Kent Road - in lieu of his having to perform in Tunbridge Wells and then belt it up to London to satisfy the huge craving for Chinese Elvis impersonators. This is in no small part thanks to pressure from my growing army of fans - YOU! Thanks for the support and keep up this lobby. The People have Power!! But check with the restaurant if you are coming especially because of me, because I might not necessarily be doing your particular night. Their number is (020) 7639 3961.This is the best way of catching my act for free - but I dont bother doing the sideburns on these gigs, so you dont get the whole thing!.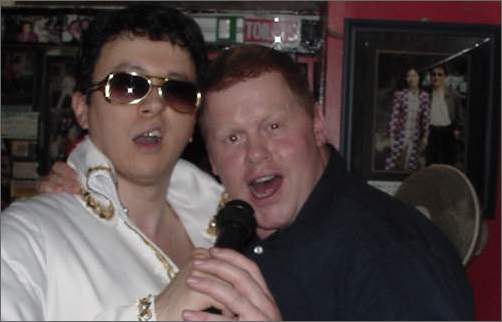 "BATTLE OF THE ELVISES" CONFIRMS CHINESEELVIS TRULY AS KING OF KINGS
Yes, it is official. To mark the launch of the exceptional Xmas album, Elvis 50 Greatest Hits, a PR stunt at Whiteley's Shopping Centre in Bayswater was arranged. An "Opportunity Knocks" clapometer - style system of merit was in place to adjudicate the outcome of a contest featuring some friendly Elvis impersonators. There was a black Elvis (The King is Black!), and two other (white!) Elvises, Jett Scream and Paul (surname forgotten, sorry). We each sang a song and then the audience clapped. Somehow they clapped more for me than anyone else. It had a lot to do with the fact that I was on last and was doing the best song (plus the fact that the sound guy stopped the other Paul's song before he had even finished) but like Michael Schumacher, I treat all victories as mud in the eyes of my competition and its nice to be able to bow out of the millennium year as the official best Elvis of 2000!!....HOORAY FOR ME!!! I AM THE GREATEST!!!!
CHINESEELVIS AND ADVERTISING
A lot of concerned people are voicing their concern that a Guinness ad, featuring a Chinese Elvis impersonator, is not the one and only chineseelvis from this very page. Well spotted, he is in fact an actor friend of mine called Ben Wong, who is very good at acting and all that. But to assuage your anxiety on my behalf, fear not! I have been asked to endorse a number of products: most recently a poster campaign for Hamlet cigars as well as a tv commercial for Bud Light and most famously, my 2 year affiliation with the very good people of AOL broadband...
GOLDSMITHS COLLEGE
Some students at the above-named college have chosen me to be the subject of a documentary film they are making for their degree. They were in fact there at Whiteleys and captured my victory on celluloid, which was fortuitous. I will of course be getting a copy of the finished product and will review it on this very page, if the unreliable, workshy useless gits ever get it to me. A veritable first class honours on its way for taste at the very least, I imagine.
PHOTOGRAPHER JOHN MILLAR
This very nice chap, who has taken photos for Empire magazine (among others), has been down to Gracelands and taken a few action shots of me singing with the punters there. They will no doubt be very special and I will post a few here when he has sent me some prints. Visit his site at . I am told by his assistant that John was the official Empire Magazine awards photographer , so that's good innit?
BICYCLES and BUSKING
As you know, I have a bit of a thing for bicycles, ever since I did a publicity stunt for Shwinn Bikes with 49 other Elvi through the streets of London and since then, Patrick from the London School of Cycling and I have teamed up on more than one occasion to swathe through the streets, regaling passers-by and annoying residents and motorists with the soothing sounds of Elvis.
Patrick and I are went out again on to the streets of London on 18th November and I am sorry to say that the weather did not do us any favours. We might well call this off until such time as spring is upon us. If, however, you see us on your travels through London, please give generously...
ELVIS BICYCLE PARADE
happened on the 22nd September in and around London on a day called "CAR FREE DAY", which is an international thingy.
This was a great laugh and I did my voice in after over-singing!!
David Moreno (self-styled paparrazzo to the Oriental King of Wok 'n' Roll) has captured some images of the day with these shots...