ChineseElvis' "UK's Number 1 Elvis" 5-a-side Football Team
(addressing the question of who is the best Elvis in the UK)
In the world of impersonating Elvis, there is a lot of rivalry buried deep, like a glob of jelly in a deep-fried peanut-butter and jelly sandwich. It got quite nasty on the Elvis internet message boards recently, which is how I got to hear of it. It was very entertaining, but now, unfortunately, it has been censored. But a lot of bitterness surrounds who is the "Number 1 Elvis in the UK". Well, after 5 minutes of looking on the internet, I discovered five of them. And that is enough for an Elvis football team. Let us not forget the impact Elvis had on the 2002 Soccer world-cup with his remixed hit, "A Little Less Conversation". The Nike ad featured overpaid soccer "stars" but would have been much better featuring my "Number 1" team below, in my opinion.
If you know of any other "Number 1" or "The Best Ever", please let me know and I will add them to the squad in a rotational way, in the style of Rafa Benitez. To qualify, they have to have the words "No 1" or similar in their advertising. They are all number 1, bless.
The Team
(in alphabetical order)
Gordon Hendricks
Alan Moore
Mark Goddard (new entry - check out the web-address! Thats told the rest of us!)
Lou Jordan
Steve Preston
Louis Rockafella (Capt)
Manager - Mark Leen (He is "Europe's No 1", after all, which gives him precedence I guess, over the UK. Plus he seems to be quite serious - making him perfect for this role)

If you are thinking of booking an Elvis, please think twice about what you are letting yourself in for. Do you really want a tatooed idiot with a microphone and his cretinous entourage showing up at your event? You do?! Well, then here is another list of Elvii at The Worlds Greatest Elvis.
Other Links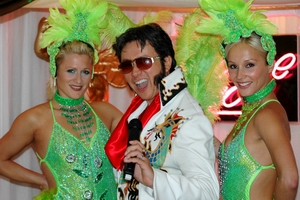 Wedding photographer? I like her style, she took this piccy and thats good enough for me. Its Rowena Amos
The best DJ in town - DJ Simon Henderson's website. What town, though? Manningtree? Its not clear where -but who gives a monkey's when he's THE BEST...?!
This links you to the site of the film Almost Elvis which is about Elvis impersonators and is almost hilarious and almost brilliant.
This takes you to a site about Chinese food, which has nothing to do with Elvis Impersonators but plenty to do with Chinese food.
While I'm at it, try this new site where you can review your local Chinese restaurant (or something like that) Chinese Nights Out
After Elvis sadly passed away, I felt alone. Ten years later, I was introduced to the 80s popstar, Dominguez - and I felt even more alone.
This takes you to a site, which has nothing to do with Chinese Food or Elvis Impersonators, but is a tv film I was in: The Lost Battallion
And in case you missed it, here is another .